Issue 2/2012
Focus:  European Public Prosecutor
Dossier particulier: Procureur européen
Schwerpunktthema: Europäische Staatsanwaltschaft
Download PDF [1.1 MB]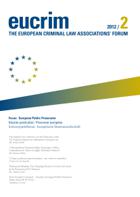 ---
Articles
The Initiative for a Directive on the Protection of the
EU Financial Interests by Substantive Criminal Law
Dr. Lothar Kuhl
A Decentralised European Public Prosecutor's Office
Contradiction in Terms or Highly Workable Solution?
Dr. Simone White
L'Espace judiciaire pénal européen : une vision se concrétise
Francesco de Angelis
Naming and Shaping. The Changing Structure of Actors Involved
in the Protection of EU Finances
Dr. András Csúri
From Europol to Eurojust – towards a European Public Prosecutor
Where Does OLAF Fit In?
Valentina Covolo